Event, Experience Information of Hirosaki & Neighboring Cities
Hirosaki Cherry Blossom Festival
【2023. 4/15 - 5/5】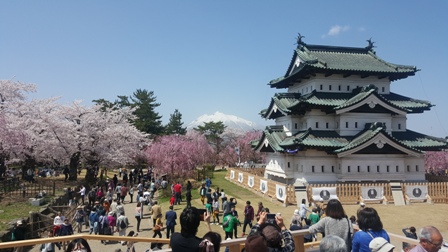 2,600 cherry trees in bloom
Hirosaki Park is full of great places to view cherry blossoms.
Come walk through a tunnel of cherry blossoms and enjoy the view from a boat in the castle's west moat.

Cherry Blossom Festival (Japanese Page)
Place:Hirosaki Park
Access:About 30 min walk from JR Hirosaki Sta.
About 15 min by using 100-yen Dotemachi Loop Bus

Hirosaki Apple Blossom Festival
【2023. 5/5 - 5/7】
Flowers of apples start blooming when cherry blossoms are about to fall.
Hirosaki City Apple Park offers a spectacular scenery of apple blossom orchard with Mt. Iwaki in the background.
Various attractions such as Tsugaru-shamisen live and hands-on experiences associated with apples including pressing apple flowers and apple peeling family competition are available.

Hirosaki Apple Blossom Festival (Japanese Page)
Place:Hirosaki Apple Park
Access:Get on the Karekitai, Soma Line Get off at Tokiwazaka Iriguchi bus stop
About 10 mins walk from that bus stop


Hirosaki Neputa Festival
【2023. 8/1 - 8/7】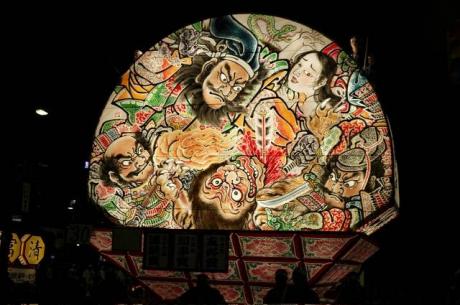 The night sky is ablaze as the procession of vividly decorated floats winds through the streets and the air thunders with the poundings of the drums.
The city comes alive, awakened from the summer doldrums by the emotion and excitement of the Neputa Festival.

Hirosaki Neputa Festival (Japanese Page)
Access: Dotemachi Course/ 10-30 min walk from Hirosaki sta.
Ekimae Course / Near the Central Exit of Hirosaki sta.
Oyama Sankei
【2023.9/13 - 9/15】
Oyama Sankei is a ceremony climbing to Mt. Iwaki in a group, on August1 by the old calendar. It is said to be established among ordinary people in the Edo Period. A large number of worshippers march holding golden sacred wands and colorful banners. Worshippers in white clothing keep calling "Saigi-Saigi" and head for Iwaki-yama Shrine. This ceremony was designated as a national important folk cultural property in 1984.

Place:From Hirosaki City Iwaki Branch to Iwaki-yama Shrine
Access:About 40min from JR Hirosaki Sta. by using a bus
Hirosaki Castle Chrysanthemum and Autumn Foliage Festival
【2023. 10/27 - 11/5】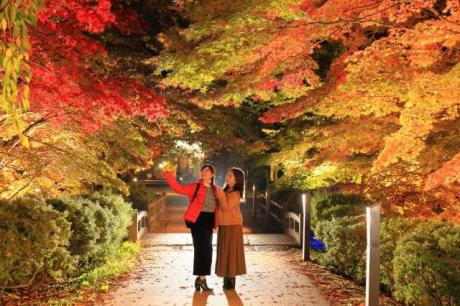 The castle grounds seethe with emotion as the brilliant autumn hues of 1,000 maple trees play off the deep green of the pines. You are also struck by the sharp scents of the chrysanthemums that adorn the dolls in the festival pavilions.

Place:Botanical Garden in Hirosaki Park
Access:About 15 min by using a 100-yen Dotemachi Loop Bus


Hirosaki Castle Snow Lantern Festival
【2024. 2/9 - 2/12】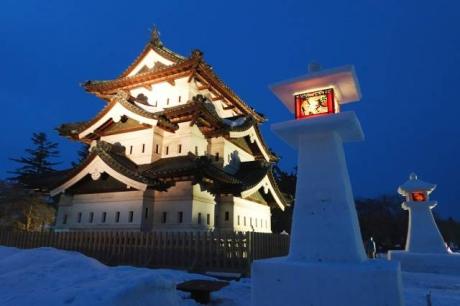 The Hirosaki Castle Park site offers beautiful winter scenes that elicit a myriad of poetic winter visions. During the festival, 50 or so snow lanterns and about 300 snow statues beckon visitors into this fantasy winter world.

Place:Hirosaki Park
Access:About 15 min by using a 100-yen Dotemachi Loop Bus


Inakadate Village
Rice Paddy Art in Inakadate Village
【2022. 5/30 - 10/10】
This rice paddy art project was started in 1993, with the aim of revitalizing Inakadate Village. Simple images of Mount Iwaki and rice plants were among the first designs to be portrayed. Then from 2003 onwards, various other artistic designs came into use. Images are usually created with yellow and purple varieties of rice together with an Aomori variety called Tsugaru Roman which is a fresh green. Due to the detailed and unique nature of this artwork it has gained considerable press attention and begun to attract many visitors.

Place①:The First Rice Paddy Art
Inakadate Village Hall Observation Deck
Place②:The Second Rice Paddy Art
Yayoi-no-Sato Observation Deck

Access:About 25 min by using a bus for Kuroishi・Ookawara Line
Get off at Hatanaka bus stop, and about 3 min from that bus stop


Kuroishi City
Kuroishi Yosare
【2022. 8/15 - 8/16】

Kuroishi Yosare is known as one of Japan's three major Nagashi Odori (parade dancing). It is said to be originated 500-600 years ago, and was a pair dance of male and female to represent love call. 3,000 dancers dancing together with a call "Eccha Ho" by taking over the street is spectacular. Visitors are able to join the dance.

Place:Kuroishi City
Access:10 min walk from Kuroishi sta.
Kuroishi Mt. Nakano Momiji
【Mid October - Early November】

Mt Nakano-momiji, known with the beautiful autumn foliage has the Nakano Shrine and Fudokan castle ruin. A 200 year-old maple tree, a fir tree & 500-700 year-old tall cedar trees which all are designated as the natural monuments of the city grow around Nakano Shrine. Above all, the tall cedar trees are praised as giant trees in Tsugaru area. The mountain is aflame with the bright colors of autumn. From old times many visitors come here to appreciate the scenery.
The mountain is nicknamed "Small Arashiyama" from "Arashiyama", one of Japan's greatest autumn foliage spots in Kyoto.

Place:Mt. Nakano-momiji
Access:30 min from Kuroishi sta.,
Konan Railway by bus; get off at Itadome stop and walk 5 min
Owani Town
Owani Onsen Azalea Festival
【Mid to Late May】

Total 15,000 of azalea flower bloom in Chausuyama Park, where you can look over the town of Owani Onsen. 69 of Haiku stone monuments stand along the walking path. Trekking is recommended with viewing 300 different kinds of flowers and trees including cherry blossoms in the park. The beautiful view of Mt. Iwaki with snow lingering on top is also enchanting.

Place:Chausuyama Park, Owani-Town
Access:7 min walk from JR Owani Onsen sta./Owani sta., Konan Railway