Hirosaki Specialities & Local Cuisine
Tsugaru jamisen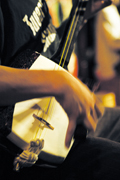 The Tsugaru-jamisen is a traditional three-stringed instrument that is characterized by a thicker neck than that found on samisen in other parts of Japan. The playing style is famous for the hard, rapid picking action with the plectrum. Born of the harsh Tsugaru climate and the warmth of the local people, this 100-year-old folk tradition now enjoys renown as one of the representative folk music styles of Japan.
Apples

Apples were introduced to Hirosaki in 1875. It is said that it all began when John Ing, an American who was teaching at To-oh Gijuku School, treated his students to some apples. The seeds from those apples were planted and the seedlings that sprouted were grafted onto other trees. This started the breeding efforts which have made Hirosaki the center of apple production in Japan. Now, thanks to the hard work and research of these early pioneers, Hirosaki produces the largest volume of fresh apples in the nation as well as many processed apple products.
You can experience Apple Picking in Hirosaki Apple Park
(August-October)

Access:Take Kawaratai Line, Get off at Tokiwazaka-Iriguchi.
Sake

In Hirosaki, the combination of quality rice, pure water and cold weather has long provided the ideal conditions for producing many renowned brands of delicious sake.
Tsugaru Lacquerware
The Tsugaru region is known for its lacquerware. Kara lacquerware requires 40 applications of lacquer before it is finished. It is considered one of the most elegant lacquerware styles in Japan.
Bunaco

Bunaco is a modern wood craft that works the wood of the beech tree (buna) into various shapes, including bowls, vases, and lamps. It is known as one of the crafts unique to the Tsugaru region.
Akebi-vine Basketry

These baskets are woven from the akebi vine that grows wild in the mountains surrounding Hirosaki. These products are valued highly throughout Japan.
Kogin Embroidery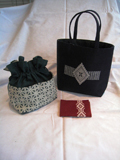 Embroidery was one of the tasks of women during the long winter months. The women of poor farm families mended and reinforced the fabric of family members' work clothes by stitching in cotton thread in geometric patterns. Lately, this method of embroidery is used for such items as business card holders, wall hangings, and table centers.
Tsugaru Pottery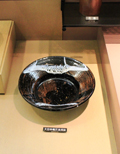 This was the official pottery of the Tsugaru Domain, and has recently been restored to its former role as a symbol of regional culture.
---
Local Cuisine
We introduce Local Specialities that you can taste in Hirosaki!
Jappa-jiru

Codfish represents the winter fish caught in Aomori. Jappa-Jiru is a miso soup using the head, bony parts & guts of codfish, and boiled with daikon radish, chinese cabbage, konjac, tofu and carrots. The soup brings out the full flavor of codfish.
Kenoshiru

The word Kenoshiru is originated from "kayushiru (porridge)", Kenoshiru is a miso soup cooked with root vegetables such as daikon radish, carrots and burdock, edible wild plants, and deep-fried tofu which are thoroughly diced into bite-size pieces. The soup tastes better after aging and repeatedly reheated. People used to eat the soup from Jan 15(Little New Year's Day) praying for good health.
Kaiyaki-Miso

Kaiyaki-Miso is a homestyle cooking with a big scallop shell used as a pan to grill a beated egg with miso and stock. Depending on the area, fish or scallops are added in it. It was a nutritional food to eat when sick. It is a very simple dish but used to be a delicacy at the time eggs were precious. Scallop shells bring out the flavor of stock as using repeatedly as pans. People in Tsugaru and Shimokita area enjoy this dish.
Codfish and Carrot Koae

Codfish and Carrot Koae is a must dish for New Year holidays in Tsugaru area, using cod roe, carrots, freeze-dried tofu, konjac and daikon radish. Ingredients are finely shredded and boiled with soy sauce and sweet sake. Ingredients and taste slightly vary from family to family.
Salmon and Bamboo Shoot Izushi

"Izushi" has been made as a preserved food of fish and vegetables in cold regions, mainly as a New year's dish. Red salmon used to be precious and Izushi was cooked only among upper class families. It is made of salmon, bamboo shoot, rice, carrot and ginger using vinegar to produce fermentation. As the dish is composed of red and white(auspicious colors), it is also cooked when inviting guests.
Igamenchi in Hirosaki

Igamenchi is a deep-fried dish made of chopped squid tentacles and seasonal vegetables. As Hirosaki is located in an inland area, seafood used to be rare and mothers in Hirosaki create the recipe of this dish not to waste even squid tentacles or fins. The recipes are slightly different from family to family.
Dake-Kimi Corn (Late August- Middle October ONLY)

Dake-Kimi corn is known for its sweetness, a result of the large temperature difference between day and night. It is sold at roadside stands from late August to middle October.




Tsugaru Buckwheat Noodles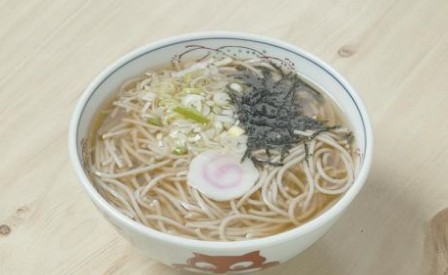 Tsugaru Buckwheat Noodles are different from common noodles. They take a great deal of time to prepare. Soy beans are soaked in water for a night, before being ground and mixed with Buckwheat flour. After being kneaded into a dough, this mixture is left for a further half day and then made into noodles. As a result of this process, Tsugaru buckwheat noodles have a delightful texture and are characterized by the sweet flavor of soybeans.