Tourist Spots
Hirosaki Castle (Hirosaki Park)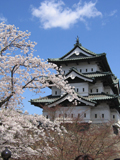 Hirosaki Castle is a symbol of the city, and it has a long history. The first of the Tsugaru feudal lords established his rule over the Tsugaru area in the early 17th century. The second lord, Tsugaru Nobuhira, completed the castle in 1611. Remaining on the grounds are a castle tower, three turrets, five gates, and three moat systems. The Hirosaki Castle site is now a 49 ha park area known as Hirosaki Castle Park. The park is a popular destination for local residents and out-of-town visitors alike.

Access: Take a 100-yen Dotemachi Loop Bus
Get off at Shiyakusho-mae (In front of City Hall)

Wi-Fi:SSID HIROSAKI_Free_Wi-Fi

※Hirosaki Cherry Blossom Festival
※Hirosaki Castle Chrysanthemum and Autumn Foliage Festival
※Hirosaki Castle Snow Lantern Festival
※Japanese Feudal Lord Princess Costumes Dressing Experience
※Reconstruction of the stone walls of Hirosaki Castle information

Fujita Memorial Garden


This Japanese-style garden reopened in July 1994, as part of the celebration of the 100th anniversary of the establishment of Hirosaki as a city. Fujita Kenichi, the first president of the Japan Chamber of Commerce and Industry, made this beautiful garden in his hometown of Hirosaki in 1919.

Access:Take a 100-yen Dotemachi Loop Bus
Get off at Shiyakusho-mae (City Hall) Bus Stop
About 5 min walk from that bus stop

Former Kaiko-sha Building


(Now Hirosaki Kosei Women's School) Important Cultural Property This building was built in the Renaissance style. It was constructed by Horie Sakichi in 1908 to serve as a place for army officers to gather to socialize or to study.

Access:
○Take a 100-yen Dotemachi Loop Bus
Get off at Kamidote-machi bus stop
About 6~7 min walk from that bus stop

○Take a Koguriyama Line・Oinomori Line bus
Get off at Hirosaki Daigaku-mae
About 5~6 min walk from that bus stop

○About 20 mins on foot from JR Hirosaki Station

Tsugaru-han Neputa Village

This museum is located at the northeast corner of Hirosaki Castle Park. It takes about 15 minutes to walk here from the Hirosaki Municipal Tourist Center. The facility was constructed out of a traditional warehouse complex. There are huge Neputa floats, classic floats and Tsugaru kites. You can try your hand at making traditional local crafts in the workshop. The souvenir shop is well stocked with many products of interest for visitors. Local musicians also offer live performances of Tsugaru Shamisen (3-stringed instrument).

Access:Get on the 100-yen Dotemachi Loop Bus
Get off at Bunka Center-mae Bus Stop
About 7~8 min walk from that bus stop

※Tsugaru-han Neputa Village Website

Hirosaki City Apple Park



Hirosaki is the center of apple production in Japan. Apple Park is located near Mt. Iwaki, and if it is clear you can get a spectacular view of it. This park features 1,000 trees and 60 varieties of apples. You can learn about apple cultivation, marketing and nutrition as well as the history of apple production. Throughout the year there are various events to enjoy, and it has something to offer to every member of the family!

Access:Get on the bus Kawarataira, Soma, Taiaki, Ainai Line
Get off at Tokiwazaka Iriguchi bus stop
About 7~8 min walk from that bus stop

Tax-Free:Enjoy Tax-free shopping in Japan!
Wi-Fi:SSID HIROSAKI_Free_Wi-Fi

※2019 Hirosaki Apple Blossom Festival Imformation
※2019 Apple Harvesting Experience at Hirosaki City Apple Park

Hirosaki Museum of Contemporary Art

Access:Get on the 100-yen Dotemachi Loop Bus
Get off at Naka-dotemachi Bus Stop
About 4 min walk from that bus stop

※Hirosaki Museum of Contemporary Art Website

O-temon Square

O-temon Square was constructed in 1990 in celebration of the 100th anniversary of the establishing of Hirosaki as a city. The square is a focal point of culture and tourism in Hirosaki.

Access:Take a 100-yen Dotemachi Loop Bus
Get off at Shiyakusho-mae (In front of City Hall)

Festival Float Pavilion (Located in O-temon Square)

The Festival Float Pavilion building was constructed in 1994 as part of the Hirosaki Municipal Tourist Center. In this pavilion, there are festival floats from towns and neighborhoods in and around Hirosaki, representing festivals that have been held since the Edo Period. Also on a display is a giant 4-meter tall drum named Joppari-Daiko (Big Stubborn Drum) that is pulled through the streets of Hirosaki during the Neputa Festival.

Access:Take a 100-yen Dotemachi Loop Bus
Get off at Shiyakusho-mae (In front of City Hall)

Choshoji Temple and Zen Temple Area

Chosho-ji (ji=temple) was the family temple of the Tsugaru family, rulers of the Tsugaru Domain during the Edo Period (1603-1867). Nobuhira, the second lord of Tsugaru, built the 16.2 meter-high Sanmon Gate in 1629. Sanmon refers to the three gates that lead to salvation from the bondage of this world.

Access:Get on the bus Shigemori Line (Yonchu-ko Line).
Get off at Shigemori-machi Choshoji Iriguchi
About 10 min walk from that bus stop

Zen Temple Area

The Second feudal load Tsugaru Nobuhira moved Zen temples from the entire Tsugaru region to this site in 1610 to serve as a protective fortress on the southwest flank of the castle.

Access:Get on the bus Shigemori Line (Yonchu-ko Line)
Get off at Shigemori-machi Choshoji Iriguchi
About 5 min walk from that bus stop
Sazaedo

A wealthy merchant named Nakata Yoshibei donated this structure in 1839. A spiral walkway and perpendicular stairs both inhabit this octagonal building. There are only two in the entire Tohoku (northeast) area.

Access: Get on the bus Shigemori Line (Yonchu-ko Line).
Get off at Shigemori-machi Choshoji Iriguchi
About 3 min walk from that bus stop
Five-Storied Pagoda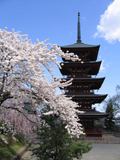 This pagoda is located to the southeast of the Castle site. It was built to provide repose for the dead and was completed in 1667 after 10 years of construction. It is 31.2 meters high.

Access: Take a 100-yen Dotemachi Loop Bus
Get off at Honcho Bus Stop
About 5~6 min walk from that bus stop
Historical House Preservation Area

The Nakacho area was called Bu-ke Nakayashiki (residences of direct retainers of the feudal lord) during the Edo Period. It retains the atmosphere of the castle town and of the samurai sprit.

Access: Take a 100-yen Dotemachi Loop Bus
Get off at Bunka Center bus stop
About 10 min walk from that bus stop
Ishiba House(Important Cultural Property)

The Ishiba were dealers in household goods and straw products in the Tsugaru Domain. This structure was built at the end of the Edo Period.

Access:Take a 100-yen Dotemachi Loop Bus
Get off at Hirosaki Bunka Center bus stop
About 10 min walk from that bus stop
Former Iwata House

The Iwata house was built for samurai families and offers a unique opportunity to see and to learn about the samurai way of life.

Access:Take a 100-yen Dotemachi Loop Bus
Get off at Bunka Center bus stop
About 10 min walk from that bus stop
Seigan Temple Gate

The main gate of the Seigan Temple is believed to have been built in the middle of the Edo Period. It is said that this gate was modeled on the Seiganji Temple in Kyoto. It is commonly called Tsuru-kame (Crane and Turtle) Gate.

Access:Get on the Karekitai Line OR Komagoshi Line (via Kogyo koukou) Bus
Get off at Kogyo-koukou-mae
About 7~8 min walk from that bus stop
Kakushu Temple(Important Cultural Property)

This temple has been designated as an important cultural property. The inner temple is representative of Soto Zen Buddhist architecture.

Access:Get on the bus Komagoshi Line toward Fujishio Branch
Get off at Mukai-komagoshi bus stop
About 5 min from that bus stop
Statue of Tamenobu:The first lord of Tsugaru Domain

This stautue is located in front of the Hirosaki Cultural Center)Tamenobu attacked many castles of the Lord of Nanbu during the Civil War period of the late 16th century. He won these battles and thus obtained Toyotomi Hideyoshi's approval in 1590 to rule the Tsugaru region. He was the first lord of the Tsugaru Domain.

Access:Take a 100-yen Dotemachi Loop Bus
Get off at Bunka Center bus stop

Former City Library (Located in O-temon Square)

This building was erected in 1907 and served as the Hirosaki City Library until 1931. There are two Renaissance-style towers. It was designed and constructed by Horie Sakichi. (Aomori Prefectural Treasure)

Access:Take a 100-yen Dotemachi Loop Bus
Get off at Shiyakusho-mae (City Hall) bus stop
Hirosaki Local Literature Museum (Located in O-temon Square)
The Hirosaki Local Literature Museum was established as an annex to the Hirosaki City Library. It offers introductions to such local writers as Ishizaka Yojiro as well as to their works. (Note: Surnames are written first and given names second in the Japanese style)

Access:Take a 100-yen Dotemachi Loop Bus
Get off at Shiyakusho-mae (City Hall) bus stop
Former To-o Gijuku Missionary Residence (Located in O-temon Square)

Admission Free To-o Gijuku High School, founded in 1873, was the first private high school opened in Aomori Prefecture. This house was built as a residence for the missionaries who had come to teach at the school. It was repaired and renovated in 2005. (Aomori Prefectural Treasure)

Access:Take a 100-yen Dotemachi Loop Bus
Get off at Shiyakusho-mae (City Hall) bus stop
Memorial Hall of Aomori Bank (former 59th National Bank)

(Important Cultural Property) This was built in 1904 as the headquarters of the 59th National Bank (the 59th national bank to be established in Japan). It is a Renaissance style building, designed and built by Horie Sakichi.

Access:Take a 100-yen Dotemachi Loop Bus
Get off at Shitadote-machi bus stop
About 5 min walk from that bus stop
Hirosaki Church -United Church of Christ in Japan

This church was founded in 1876, and was housed in two earlier structures before this building was completed in 1907. With its twin Gothic towers, the church bears similarities to the Notre Dome Cathedral in Paris. It was designed and built by Sakuraba Komagoro.

Access:Take a 100-yen Dotemachi Loop Bus
Get off at Bunka Center-mae bus stop
About 3 min walk from that bus stop
Catholic Hirosaki Church
The Catholic Hirosaki Church was designed by Father Orje and built by Yokoyama Tsunekichi in 1910. This building is in the Romanesque style and has a spire.

Access:Take a 100-yen Dotemachi Loop Bus
Get off at Bunka Center bus stop
About 5 min walk from that bus stop
Hirosaki Anglican Ascension Church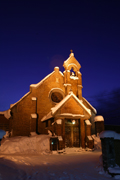 The Hirosaki Anglican Ascension Church is a Gothic-style church and was constructed of red brick. It was designed by James Gardiner and built by Hayashi Midori in 1924.

Access:Take a 100-yen Dotemachi Loop Bus
Get off at Nakadote-machi bus stop
About 3 min walk from that bus stop

Kagamigaoka Memorial Hall (Located in Hirosaki High School)

This building was a part of the former Aomori Prefectural Junior High School (the present Hirosaki High School) and was built by Kawamoto Shigejiro in 1895.

Access:
○Take a 100-yen Dotemachi Loop Bus
 Get off at Honcho bus stop
 About 10 min walk from that bus stop

○Get on the bus Sakuragaoka ・Kinzoku Danchi Line
 Get off at Hiroko-mae
Former Hirosaki High School Foreign Teacher's Residence (Located in the Hirosaki University)

This house was built in 1925 for foreign teachers who taught at Hirosaki High School, the predecessor of the present Hirosaki University. After it was transferred to Hirosaki University, it continued to be used as a residence for members of the faculty.

Access:About 30 min walk from JR Hirosaki Station
Get on the bus Koguriyama Line, Oinomori Line
Get off at Hirosaki Daigaku-mae Bus Stop
Hirosaki Gakuin Foreign Missionary Residence

This house was built in 1906 to provide living quarters for the foreign missionaries who taught at the school. It was designed by Sakuraba Komagoro.
Located on the Hirosaki Gakuin University

Access:Bus
Get on the bus Koguriyama Line, Oinomori Line
Get off at sanchuko-mae bus stop
About 15 min walk from that bus stop
Konan Railway (Owani Line)
Get on the Konan Railway(Owani Line)
Get off at Hirosaki Gakuin Daigaku-mae
About 3 min walk from that stop
Hyakkoku-machi Exhibition Hall

The Hyakkoku-machi Exhibition Hall was built as a Japanese Kimono shop in 1886. The Tsugaru Bank bought it in 1917. Tsugaru Bank merged with Aomori Bank in 1944 and Aomori Bank donated it to the City of Hirosaki in 2001. The city then refurbished and opened it as the Hyakkoku-machi Exhibition Hall in 2004.

Access:Take a 100-yen Dotemachi Loop Bus
Get off at Shitadote-machi Bus Stop
About 3 min walk from that bus stop
The clock tower of the Ichinohe Watch Store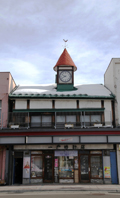 This was built in 1898 for the Hirosaki office of the Miharado Company. The Ichinohe Watch Store took over this building and its clock tower in 1920.

Access:Take a 100-yen Dotemachi Loop Bus
Get off at Nakadote-machi Bus Stop

Yoshino-cho Park

The memorial dog for the Yoshitomo Nara + graf A to Z exhibition in 2006 appeared in front of the Brick Brewhouse!!!

Access: Take a 100-yen Dotemachi Loop Bus
Get off at Nakadote-machi Bus Stop
About 5 min from that bus stop

Shirakami-Sanchi and its Great Virgin Beech Forest
Take a walk around the Shirakami-Sanchi, where the natural ecosystem has been preserved.

With one of the largest virgin beech forests worlds in the world, the mountainous Shirakami-Sanchi area covers over 130,000 ha of southern Aomori and northeastern Akita. It became Japan's first world Heritage Site in December 1993. The natural ecosystem is well-preserved, and a great variety of animals and plants can be found here.
Mother Tree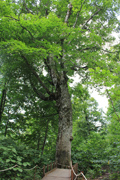 This tree with an extraordinary thick trunk, near Tsugaru Toge(Tsugaru Pass), is estimated to be 400 years old.

Anmon Falls

One of the symbolic sights of the shirakami-Sanchi, Anmon Falls consist of three falls, each with drops of 26m, 37m and 42m.

Shirakami-Sanchi TRIP GUIDE BOOK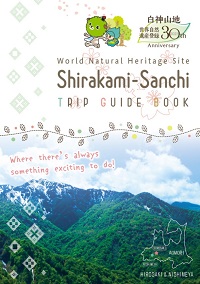 2023,30th Anniversary
World Natural Heritage Site
Shirakami-Sanchi TRIP GUIDE BOOK
(Digital pamphlet)



Our Recommendation Course
Buna Tree Walk Pass (1 hour)
| | | | | |
| --- | --- | --- | --- | --- |
| Aqua Village Anmon | | Buna Tree Walk Pass | | Aqua Village Anmon |
Anmon Falls Walk Pass (2 hours)
| | | | | | | | | |
| --- | --- | --- | --- | --- | --- | --- | --- | --- |
| Aqua Village Anmon | | The Third Fall | | The Second Fall | | The First Fall | | Aqua Village Anmon |
Access/Transportation to the Shirakami-Sanchi
Hirosaki Bus Terminal
Ito Yokado Dept.
Take one of the buses below
●Kawaratai Line
●Taiaki Line
JR Hirosaki Station
Shiyakusho-mae
Kouen iriguchi
Near
Hirosaki Municipal
Tourist Center
Nishimeya-mura
Yakura
Transfer to the Shuttle Bus for
ANMON Falls at this Bus Stop.
Aqua Village
Anmon
Entrance of Anmon Falls
Tsugaru To-ge
(Tsugaru Pass)
Mother Tree





SHIRAKAMI LIFE&ACTIVITIES

English Website


Mt. Iwaki is a double volcano with an altitude of 1,625m. There are three peaks; the two flanking peaks are Mt. Ganki and Mt. Chokai, and the central peaks is Mt. Iwaki. The mountain greatly varies in appearance depending on where you look at it; each town claims that it has the best view of the mountain.
Iwakiyama Shrine

Iwakiyama Shrine is said to have originated in 780, when a shrine was built on the peak of Mt. Iwaki. In the feudal days, the Tsugaru loads professed great faith in the shrine, and the present building was reconstructed in the early Edo Period. The carvings, painted in vivid colors, are worth the visit.




Tsugaru Iwaki Skyline

You can drive up to the 8th station of Mt. Iwaki on this 9.8km toll road. There are 69 hairpin curves that wind through the virgin beech forest; it takes about 30 minutes to the terminus. On the clear day, there is a great panorama, with the Shirakami-Sanchi in the distance.

Access:Get on the bus for Karekitai. Get off at Dake Onsen Bus Stop and transfer to the Shuttle bus.


The World's Longest Cherry-Lined Road (Early May)

At the southern foot of Mt. Iwaki, there is a road lined with 6,500
Oyamazakura Cherry Trees, stretching for 20km. The pale pink of the cherry blossoms set against the lush green of the mountain add to the spectacular view.
Inquiry :Iwaki–san Tourist Association Email: 1625@iwakisan.com
Access / Transportation
Hirosaki Bus Terminal Ito Yokado Dept.
Take a bus below
●Kawaratai Line
JR Hirosaki Station
Shiyakusho-mae
Kouen iriguchi
Near
Hirosaki Municipal
Tourist Center
Dake Onsen
(Hot Spring)
Bus Stop
Need to transfer shuttle Bus for 8th station of
Mt. Iwaki
Tsugaru Iwaki Skyline
8th station
Entrance of
Mt. Iwaki
Remarks
If you wish to go to the 8th station of Mt. Iwaki, you will need to transfer to the shuttle bus at Dake Onsen Bus Stop